Paddock Cleaning Made Easy Since 2016
Proudly Australian Made
Australia's original, favourite and premium manure collector. Built to last with a 10 year warranty, so you can rest assured you're investing in a solid product with thousands of happy users throughout Australia.
Backed by solid customer service before, during and long after your purchase.
Paddock Blade® hooks up to your ATV, Car or Ride-on mower in seconds. It's simple and easy to use by design, for people of all age and abilities. It will save you many hours of back-breaking effort every week. Leaving your horses with clean and healthy pasture.
Proudly and uniquely Australian made with Australian steel, supporting Australian jobs, it always has been and it always will be.
Specifications
110 Wide x 110 Long x 22cm High
Lifetime Warranty as Standard
Proudly Australian Made
No Moving parts / Maintenance
Clears an Acre in 10 Minutes
300L Capacity (3 large Wheelbarrows)
Australia's Best Selling Paddock Cleaner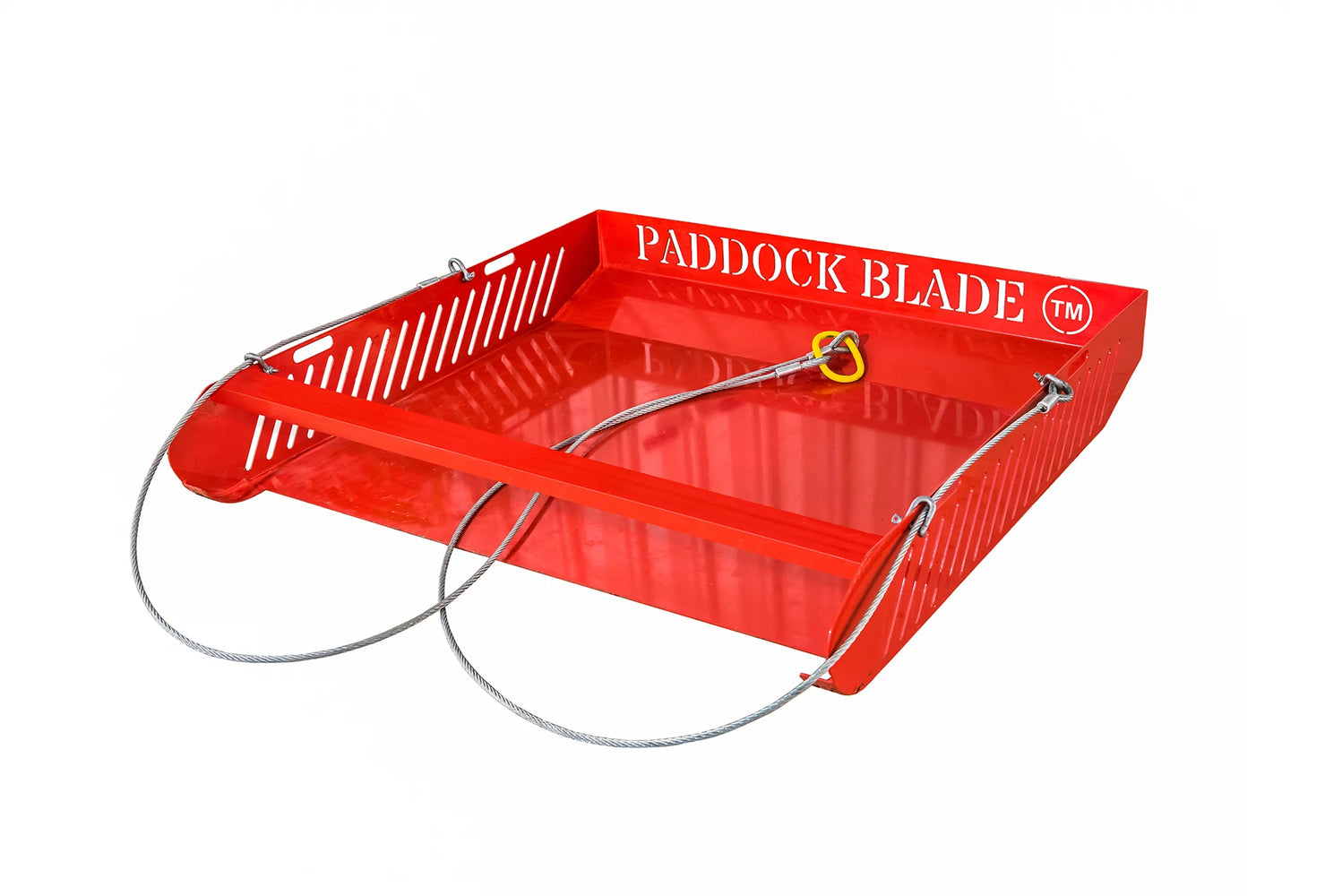 SAVE TIME
Paddock Blade paddock cleaner clears an acre in under ten minutes and will have your entire property cleared up quickly and efficiently with minimum effort.


Giving you back more of your own time to do the things you love to do! Paddock Blade users slash their horse muck out time by 70% instantly!
SAVE EFFORT
No more back breaking work walking round the paddocks for hours in tough weather picking up horse manure with a shovel and barrow, or using substandard products that are unfit for purpose.

Paddock Blade will instantly save you 90% of the effort you would normally spend on cleaning your paddock(s).
SAVE MONEY
Paddock Blade paddock cleaner also saves you money as it gives your horses a healthier paddock pasture environment to live and eat in. This means less worms and less disease spreading mess. Therefore reducing costly vet bills that can often arise due to poor environments for your horses.

It's a great investment to reduce the cost of maintaining your paddocks. Australian made, built solid to last a lifetime.
Specifications
110 Wide x 110 Long x 22cm High
Lifetime Warranty as Standard
Proudly Australian Made
No Moving parts / Maintenance
Clears an Acre in 10 Minutes
300L Capacity (3 large Wheelbarrows)
Australia's Best Selling Paddock Cleaner
Specifications
110 Wide x 110 Long x 22cm High
Lifetime Warranty as Standard
Proudly Australian Made
No Moving parts / Maintenance
Clears an Acre in 10 Minutes
300L Capacity (3 large Wheelbarrows)
Australia's Best Selling Paddock Cleaner